Yahoo's been on a tear since Marissa Mayer took over as CEO last summer, buying companies and overhauling its old products right and left.  The latest update came Wednesday as the company announced a new design for its web search interface.
The search overhaul has been much anticipated, given that Mayer was well-known for setting exacting standards for Google's  search interface when she was an executive there.  And search is still important to Yahoo, given its revenue-sharing deal with Microsoft, even if Yahoo only has about a 12 percent share of the U.S. search market, according to comScore.
The new design isn't a radical change, but it's a little cleaner and pushes the results higher on the page by moving some other items to the side. Yahoo is also promising results will load faster.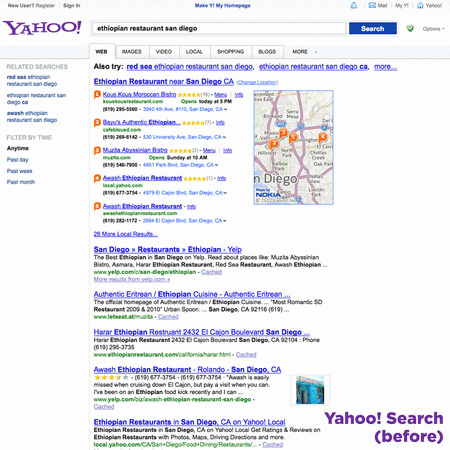 Reaction to some of Mayer's other recent changes hasn't been all good, however.  Some people are complaining about bugs in the recently over-hauled Yahoo Mail service, including lost emails and other problems.
British Telecom recently said it was moving 6 million users off Yahoo Mail, citing complaints of hacking and spam, according to the UK's Telegraph.  And Business Insider said its survey of 1,200 readers found 57 percent are unhappy with changes made to Yahoo Mail last fall.
Citing unnamed sources, BI is suggesting Mayer pushed Yahoo's engineers too hard to finish the mail redesign quickly last fall.  But don't expect Mayer to slow down.
Yahoo has announced deals to buy at least ten start-ups since she came on board, including the pricey $1.1 billion acquisition of Tumblr.  And CFO Ken Goldman told investment analysts Tuesday that Yahoo will continue to look for  more deals, especially in the mobile sector.
Goldman specifically cited an interest in "localization," which prompted Kara Swisher at All Things D to suggest Wednesday that social check-in service Foursquare might be an attractive target.
 (Yahoo search GIF courtesy of Yahoo)
Tags: Foursquare, Yahoo